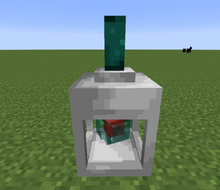 An Access Point is essentially a protective metal housing for a Linked Pearl. It allows the player use a pearl to teleport to a Transport Hub without losing the pearl. Additionally it may be powered to prevent the damage associate with travelling by Linked Pearl. The Access Point will also pass power to any adjacent RF powered machine. It may be upgraded with a Transport Receiver in order to send its location to a Hub Controller, allowing two way teleportation, and allow it to take advantage of any upgrades present in the Controller.
Interface
Edit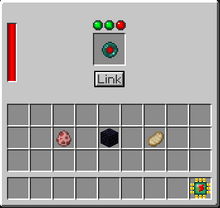 Placing a Linked Pearl in the inventory slot allows the player to teleport to the corresponding Hub by shift clicking on the Access Point Block. Pressing the 'Link' button in the interface sends the Access Point's location to the Controller attached to the corresponding Hub, provided a Transport Receiver is attached. The indicator lights above the inventory slot indicate whether the point has established a two way link and whether it is receiving power from the Controller, respectively. The third light is not yet implemented.
Ad blocker interference detected!
Wikia is a free-to-use site that makes money from advertising. We have a modified experience for viewers using ad blockers

Wikia is not accessible if you've made further modifications. Remove the custom ad blocker rule(s) and the page will load as expected.